Announcing Cryptoeconomic Systems Summit Oct 5-6 at MIT
Cryptocurrency Research Review ends, Cryptoeconomic Systems begins! October Summit, March Conference & Journal Plans
Hello!
Welcome to an update from our Cryptocurrency Research Review newsletter. Going forwards, we will be retiring CRR as preparations for the forthcoming Cryptoeconomic Systems journal & conference series ramp up. To keep up with the latest cryptocurrency and blockchain research we'd suggest subscribing to zkCapital's weekly digest. In the meantime we will very occasionally send out messages associated with conference and journal activities.
See info below on our upcoming summit, and apply to speak/attend here: 2019.cryptoeconomic.systems.
---
Cryptoeconomic Systems
Field Building Summit @ MIT Media Lab, Oct 5–6 2019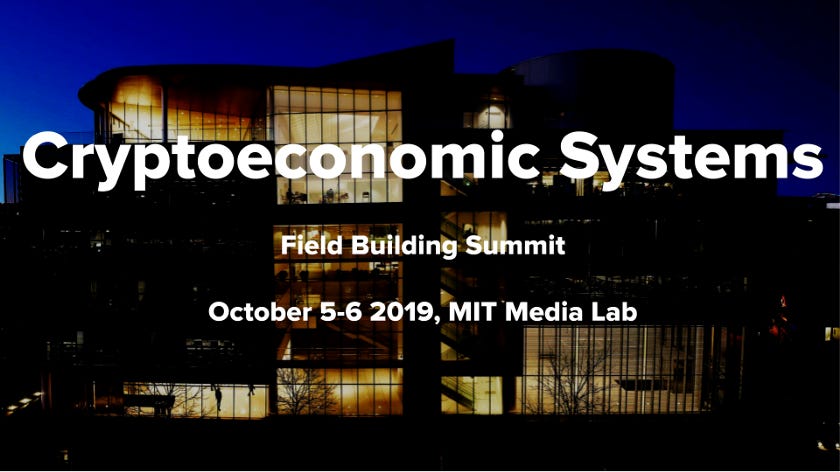 We welcome you to Cambridge this fall for a two-day gathering at the MIT Media Lab on October 5th and 6th focused on collaboratively building an interdisciplinary field of cryptocurrency and blockchain technology research. By gathering academics, practitioners and industry leaders from a variety of areas we aim to foster a fruitful exchange of ideas in preparation for the launch of a new Open Access journal published by The MIT Press, "Cryptoeconomic Systems".
The goal of these highly collaborative journal and conference activities is to bring together the technical areas of cryptography, protocol engineering and distributed systems research with insights from the domains of economics, law, complex systems and philosophy to crystallize a mature communal scholarly ecosystem. In addition, legacy publishing has serious issues which limit the impact and legitimacy of academic contributions in such a fast-moving area of study. We welcome discussion of strategies to address matters such as publication access and researchers' rights, lack of incentives & transparency in peer review, gaming of metrics such as journal impact factors and historical differences in publishing culture between subject areas.
There will be a broad cross-section of top researchers from academia and industry presenting and attending. Confirmed sessions include keynotes from Dahlia Malkhi (lead researcher at Calibra), Kevin Werbach (Wharton), Neha Narula (MIT DCI, co-EIC Cryptoeconomic Systems) and Andrew Miller (UIUC/IC3, co-EIC Cryptoeconomic Systems) with participatory discussions on ethics, publishing, peer review and interdisciplinary collaboration scheduled.
Key Information:
October 5–6, 2019
The MIT Media Lab, 75 Amherst St, Cambridge, MA 02139.
Event website: 2019.cryptoeconomic.systems

Tickets are available by invitation only and will be priced to cover costs — between $0 and $300 depending on sponsorship.

To apply for an invitation please complete this form.
To propose a presentation or round table discussion please complete this form.
Bursaries are available for students, hardship and D&I. Please complete this form.
To sponsor this event, see our sponsor deck here and reach out!

If you have questions, contact us at: conference2019@cryptoeconomic.systems
---
In addition, we will host a peer-reviewed Cryptoeconomic Systems Conference on March 5-6 (CFP to follow). To stay up to date with other academic cryptocurrency conferences, check out this great list maintained by BSafe.network
Finally, join our Telegram channel here for discussion on Cryptocurrency Research. If you have any feedback, please just respond to this email directly. We'd love to hear from you. Thanks!
Disclaimer: All content is for informational purposes only and not intended as investment advice.